WORLD CUP TROPHIES COME TO SELCO SALFORD
WORLD CUP TROPHIES COME TO SELCO SALFORD
March 15th, 2022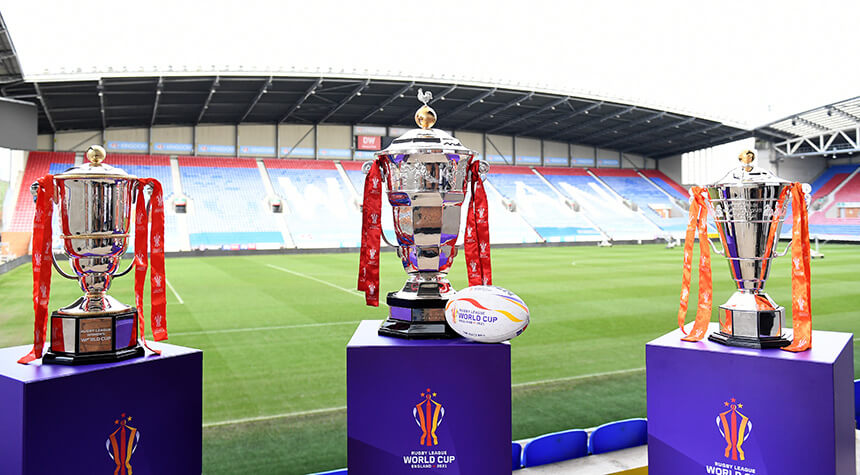 Rugby League fans across Manchester will be able to get up close and personal with the most prestigious trophies in the sport on Friday.
Our Salford branch will host the Rugby League World Cup 2021 men's, women's and wheelchair trophies.
The prestigious silverware will be on display at the branch on North Phoebe Street, off Regent Road, between 9am and 10am.
We are a partner of both the Rugby League World Cup, which will be staged in the UK in 2022 after being postponed last year due to the pandemic, and Super League team Salford Red Devils.
Carine Jessamine, marketing director of Selco, said: "We are delighted to be offering this unique opportunity to our customers, colleagues, fans of Salford Red Devils and rugby league and sports enthusiasts across Manchester in general.
"The Rugby League World Cup will be one of the major sporting events in 2022 and we are thrilled to be an official partner of the tournament and to enjoy opportunities such as bringing the trophies to our Salford branch on Friday."
There will also be the opportunity for visitors to win tickets to the tournament on Friday by taking part in a special Selco rugby league charity game.
The Rugby League World Cup trophies will be in Salford throughout Friday, visiting schools throughout the day before being on display at the Red Devils' home game with Leeds Rhinos in the evening.