It's a jolly good surprise for Selco superfan Hollie
It's a jolly good surprise for Selco superfan Hollie
December 22nd, 2021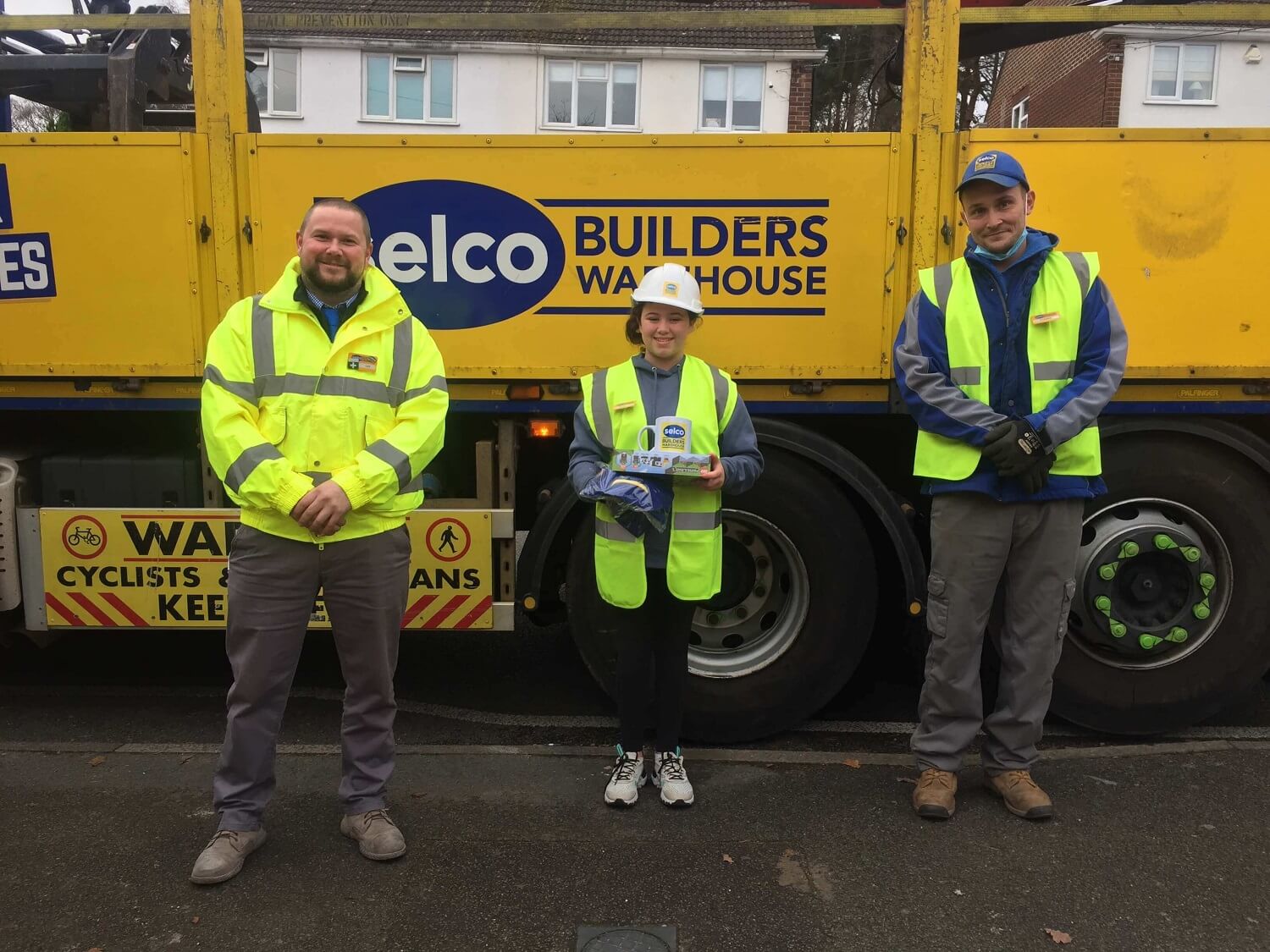 Christmas came early for a Surrey 12-year-old when she received a surprise visit from her favourite builders' merchant.
Hollie Nixon is such a fan of Selco Builders Warehouse that her local branch in Camberley decided to conduct a special delivery as an appreciation of her dedication.
Our branch, based on Tuscan Trade Park on Trafalgar Way, sent one of its HGV delivery fleet to crane the presents on to Hollie's drive in Sandhurst, with the youngster watching on in awe.
As well as receiving a selection of her favourite toys as Christmas gifts, Hollie – who is a pupil at Collingwood College in Camberley - was given a hard hat, hi-vis jacket, a Selco t-shirt and name badge.
The surprise came about after Hollie's mother Sam contacted Selco to explain her daughter's love of the builders' merchant and requested a birthday card be sent.
Sam said: "Hollie is truly in love with Selco – she pretends she works for them and sees her pocket money as her wages.
"She loves going into the Camberley branch with her dad and always waves when she sees a Selco truck.
"I got in contact with Selco to ask if it would be possible to send a birthday card for Hollie. They went above and beyond that and the delivery has made Hollie's Christmas extra special.
"For a big national company such as Selco to take the time to do something like that really is fantastic and I can't thank them enough."
Selco Camberley deputy branch manager Lee Howland, who was part of the delivery team, said: "Hollie is certainly a Selco superfan. As soon as we heard about her love for Selco, we knew we had to do something special for her at Christmas.
"There was plenty of festive spirit in the air when we went to visit Hollie and it was brilliant to see the smile on her face when we knocked on her door and delivered the presents on to her drive with the crane."