First seeds to success planted for Secret Garden
First seeds to success planted for Secret Garden
May 19th, 2021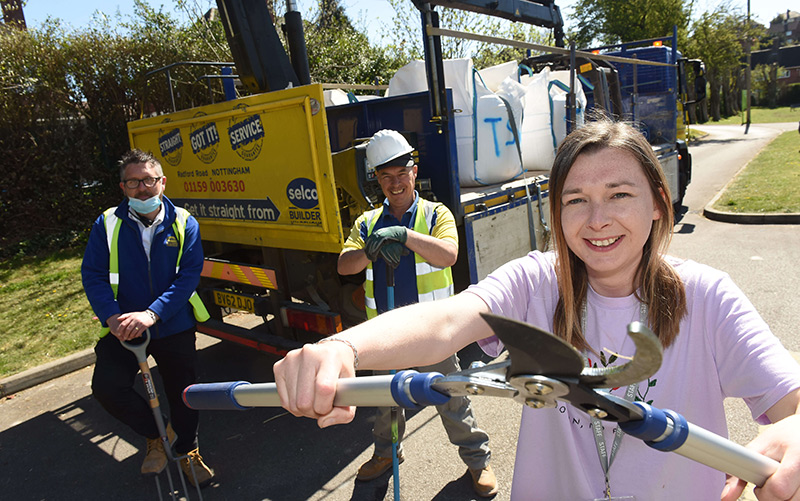 A community garden project in Nottingham is springing into full bloom thanks to a helping hand from Selco Builders Warehouse.
A garden space at Heathfield Community Centre on Ventnor Rise is undergoing a dramatic transformation to provide an attraction for local residents.
The 'Secret Garden' project is being led by the Pythian Club, an organisation which is based at the community centre and which aims to improve the lives of young people through education, sports, arts and music initiatives.
Local residents are also being encouraged to get involved while our Nottingham branch, which is based on Radford Road in Basford, has donated a selection of tools and materials.
Kirsty Dexter, the Hub Assistant Manager at the Pythian Club, said: "With restrictions lifting, we wanted to embark on a project to engage both our youngsters at The Pythian Club and the wider community.
"We had a garden area which had become overgrown and we wanted to create a facility which could be used for educational needs with schools and the wider community.
"We are initially working on a 12-week programme which will include construction, planting, pruning, scrub clearance and general site maintenance and the plan beyond that will be to continue to make the Secret Garden a facility everyone can be proud of.
"The team at Selco Nottingham have been absolutely brilliant, donating no end of products and materials to help us make our vision a reality. We would have really struggled to get the project off the ground so quickly without Selco's support."
A range of garden tools have been donated by Selco, including spades and shears, as well as topsoil and PPE and a first aid kit.
Adam Newbold, Trade Sales Manager at Selco Nottingham, said: "When we were approached to provide support, we were only too happy to do so.
"The garden has fantastic potential not only for people who use the Heathfield Community Centre, including the Pythian Club, but also the wider community.
"Our ethos at Selco is to support the local communities in which we operate and this is a brilliant scheme to be involved in."