COMMUNITY FOOD HUB RECEIVES SELCO BOOST
COMMUNITY FOOD HUB RECEIVES SELCO BOOST
December 22nd, 2020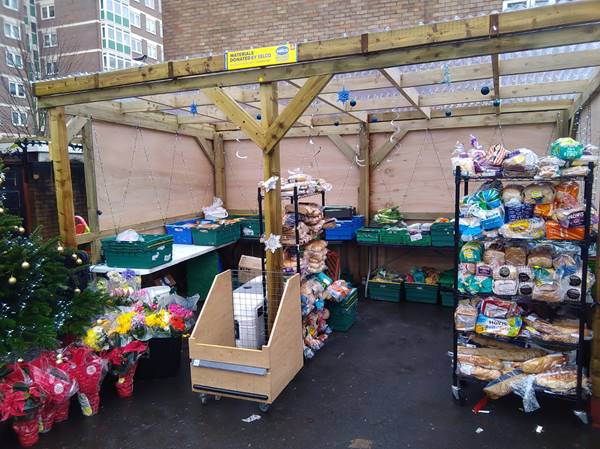 A community food hub in Manchester has a new 'home' for Christmas – thanks to the help of Selco.
Bideford Community Centre, based on Bideford Drive in Wythenshawe, has been operating a food collection service to residents since the coronavirus pandemic began in March.
The Baguley branch of Selco has now stepped in to provide timber and roofing materials to allow the centre's management to create a wooden gazebo to host the food hub.
Centre coordinator Kirsty Taylor said: "Our community centre has been in operation for 10 years and, as well as hosting a range of events and services, we are always seeking different ways to meet the needs of residents.
"A community food hub has been on our agenda for quite some time and we decided to push ahead with it when the pandemic started.
"It's very much done on a basis of trust. It's open to anyone but we hope people use it in the right way and our motto is 'take for need, not for greed'.
"We have donated the food from an outdoor location at the centre throughout the year but have been looking to create a gazebo-type structure to host the hub and we were delighted the Selco branch in Baguley stepped in to help.
"Not only have they provided materials but they also arranged for a professional tradesperson to construct the gazebo for us.
"It was all completed in just a few days and we couldn't be more grateful – it's a huge bonus for the whole community."
Dave Rawlinson, manager of Selco Baguley, said: "It's been an incredibly difficult year for everyone and we will always try and help and support the local communities in which we operate.
"Kirsty and the team at Bideford Centre do fantastic work and we hope our donation will enable them to continue to provide the outstanding food hub service into next year and beyond."