DARTING DELIGHTS CONTINUE FOR SELCO
DARTING DELIGHTS CONTINUE FOR SELCO
April 13th, 2021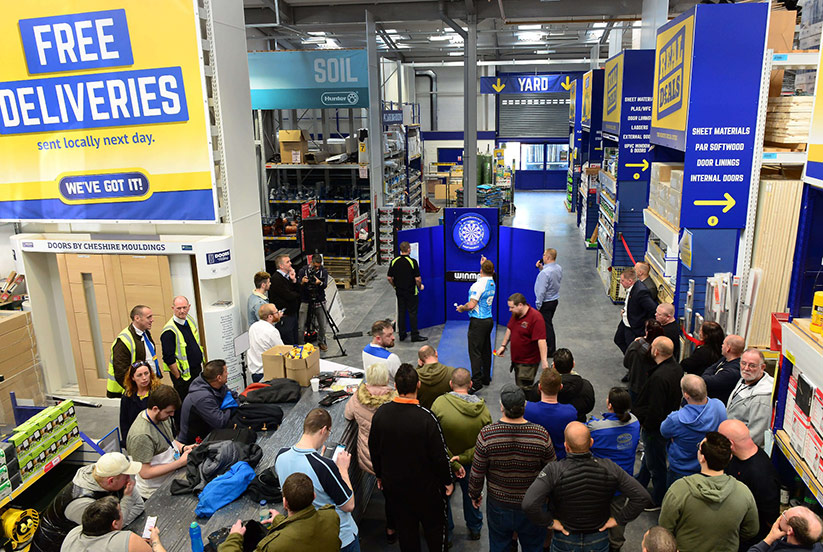 Game on! We are thrilled to announce we will be staying on the oche and firmly in the sporting spotlight after extending our sponsorship of big-time darts.
We will remain an official partner of the Professional Darts Corporation (PDC) until the end of 2023.
We first teamed up with the PDC in July 2019 and have enjoyed 18 months of outstanding exposure, despite the lack of crowds at tournaments over the last year due to the coronavirus pandemic.
With crowds due to return to sporting venues later this year under the government's current roadmap, we are preparing to once again ramp up our activity.
Carine Jessamine, marketing director, said: "Our partnership with the PDC has already provided us with so many opportunities and darts continues to ride the crest of a wave when it comes to popularity.
"From having some of the world's best players – including world champion and world No 1 Gerwyn Price – playing darts against our customers in branches, to seeing the Selco name in bright lights at major televised events, to having the chance to have a presence at the biggest tournaments, there have been no end of benefits.
"Our customers and colleagues have also enjoyed the chance to benefit from a night out at the darts on Selco and thrive on the special atmosphere it creates.
"It goes without saying that there have been virtually no tournaments with crowds over the last 12 months but we have continued to work alongside the PDC to make the most of the sponsorship.
"We are excited at the prospect of fans returning to venues over the coming months and the chance to re-start our ticket promotions and games at events. It's a perfect fit for us and our customer base."
Throughout the sponsorship so far, we have also devised challenges for the leading players, resulting in thousands of pounds being raised for our nominated charity, Global's Make Some Noise, while our specially designed darts shirts have also become much sought-after prizes for fans of the sport.
As part of the sponsorship extension, we will continue to enjoy branding rights at many PDC televised tournaments, as well as an allocation of tickets and player appearances.
PDC chief executive Matt Porter said: "Selco has been a fantastic partner over the last couple of years and we are delighted to agree an extension.
"Our most successful partners are those who go the extra mile to actively engage with the sport and the fans and Selco are certainly very high up the list when it comes to that.
"The darts has been great for Selco and Selco has been great for the darts so we look forward to that winning formula continuing."