Selco Salford
IT'S WHERE THE TRADE GO!
Branch Details
Selco Salford
North Phoebe Street
Off Regent Road
Salford
M5 4EA
Tel: 0161 549 1630
Email: [email protected]
Manager: Simon Lee
Deputy: Mark Bradbury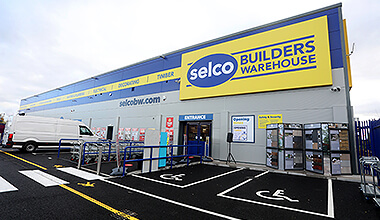 More About Selco Builders Warehouse Salford
We're pleased to announce that our new branch in Salford is now open, located on North Phoebe Street, off Regent Road. With extended opening hours and thousands of top trade brands in stock, you can get what you need at a great price and get straight back on the job. Selco has been a well-established timber merchant for many years and all our timber has chain of custody certification to help protect the world's forests.
With over 15,000 trade materials and supplies available, Selco Salford has everything you need, whatever your trade. Plus, for added convenience, we offer brick-matching, paint-mixing and sheet material cutting in-branch, as well as our Click & Collect service to make your job easier.
Register today for a FREE trade card and you'll get access to all this and much more!
Get a FREE Trade Card today!
Sign up for your Trade Card and you can buy any of thousands of trade products online and in-branch, straight away!
All you need are your business details and a couple of minutes to spare.