Selco Slough
IT'S WHERE THE TRADE GO!
Branch Details
Selco Slough
115 - 135 Farnham Road
Slough Trading Estate
Slough
SL1 4UN
Tel: 01753 694462
Email: [email protected]
Manager: Tim Howard
Deputy: Akib Chughtai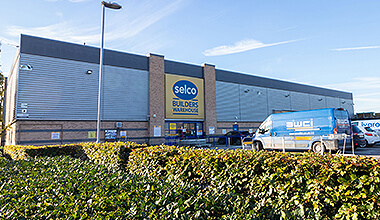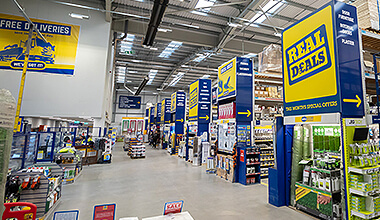 Looking for a builders' merchant in Slough?
If you're looking for a timber merchant or a builders' merchants in Slough, our Selco Slough branch is for trade and business only, so you can guarantee you'll find all the top trade brands you know at excellent prices. Located off Farnham Road on Slough Trading Estate, we're open 7 days a week.
At Selco Slough, you can get all the timber supplies and building supplies in Slough that you'd expect from your local builders' merchants. We've got stacks of stock lining our shelves, from plasterboard, electrical or plumbing supplies, and insulation, to landscaping materials, fence panels and paving slabs – we've got it! We even have a range of self-assembly fitted kitchens. Or, if you're looking for a timber merchant in Slough, we've got plenty of timber and sheet materials in our large timber yard too.
At Selco Slough, we pride ourselves on making tradespeople's jobs easier. That's why we offer a range of in-branch trade services. Our team are always on hand to help with sheet material cutting, timber cutting, brick matching and paint mixing. We've even got a free kitchen design service. Feeling peckish? We've got an in-branch café offering a fantastic selection of hot and cold food and drinks so you can fuel up throughout the day.
So, whether you're after a builders' merchant in Maidenhead or a timber merchant in High Wycombe, we've got you covered! If you can't make it into branch, our free bulky delivery service covers everywhere from Slough to Maidenhead, as well as surrounding areas including Iver, Langley, Windsor, Ascot, Uxbridge, Beaconsfield, High Wycombe and Burnham. We also offer a free Click & Collect service for you to pick up your supplies at a time that suits you.
Local news for Selco Slough
This year we're sponsoring Cancer Research UK as our chosen charity. We've already completed a regional raffle in June, and we're going to participate in a regional abseil on Saturday 23rd September! Make sure to look out for any fundraising activities we're doing in branch to raise some money for a great cause!
Get a FREE Trade Card today!
Sign up for your Trade Card and you can buy any of thousands of trade products online and in-branch, straight away!
All you need are your business details and a couple of minutes to spare.