Namgrass Artificial Grass
Namgrass Artificial Grass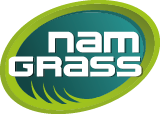 Made for living
Namgrass Artificial Grass
Artificial grass is fast becoming a common sight in lawns and gardens around the UK. Due to its low maintenance and fuss-free nature, artificial turf is a popular choice for those who lead busy lifestyles or simply want a perfectly manicured lawn all year round.
Modern artificial grass has come a long way and is now tricky to tell them apart from the real thing. With the right preparation, an artificial lawn is also really easy to install. Watch our video guide to installing artificial grass lawns below. You can also find all the tools and equipment you will need to fit any synthetic grass project beneath the video.
What You Need
Why Namgrass?
Namgrass have been making artificial grass for over 30 years and never stop innovating and improving their products. This dedication makes their artificial turf as close as it gets to the real thing.
No matter what the seasons bring, a Namgrass lawn remains pristine and beautiful any time of the year, whatever the weather. Namgrass is also ideal for pet owners, this is because artificial grass doesn't leave traces of mud on a pets paws.
Check out our artificial grass page to find the Namgrass materials you need to begin your artificial turf project.

Natural look and feel

10 year warranty

No mowing

No watering

No mud

Safe for children

Suitable for pets

Low maintenance

Suitable for indoor and outdoor use

ISO certified

Professional installation available