RoofCell by Cure It GRP Roofing System
RoofCell by Cure It GRP Roofing System

Introducing RoofCell from Cure It
---
RoofCell is a revolutionary direct-lay GRP roofing system that is suited for new projects as well as refurbishments.
This new system features all the benefits of GRP with the added bonus of direct-lay application, meaning it can be used on existing surfaces, including felt, old GRP roofs, or even concrete or asphalt substrate so long as it is in a good, dry condition.
This high-flexibility GRP roofing system ensures no-fuss application and is suitable for all roofs, no matter the shape or size. RoofCell Basecoat and RoofCell Topcoat uses a proprietary technology that provides high performance and a watertight finish, without the need for an additional primer (except for when applying to concrete).
Key features include:
Fire certification to EN 1187 test 4 - BROOF(t4)
Extreme UV resistance
Suitable for use year-round
You can view Cure It's handy RoofCell Installation guide, as well as their Ready Reckoner online.


---
Video Installation Guide
---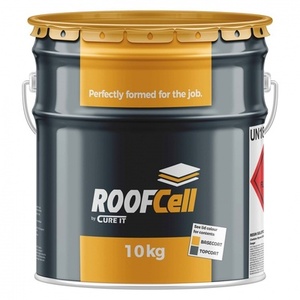 RoofCell Basecoat
RoofCell Basecoat is available in both 10kg and 20kg, and does not require a primer except when applying to concrete.
Whether you're refurbishing an old GRP roof or creating a new one, RoofCell Basecoat can be applied directly once the existing surface has been prepared and GRP edge trims have been applied.
Apply RoofCell Basecoat with the Cure It Reinforcement Mat to form the laminate component of the GRP roof. The Basecoat forms a flexible, non-porous seal.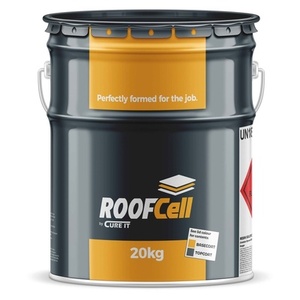 RoofCell Topcoat
RoofCell Topcoat is also available in both 10kg and 20kg.
After creating the laminate component of the GRP roof using the RoofCell Basecoat and Cure It reinforcement mat, RoofCell Topcoat can be applied on top to finish the job.
RoofCell Topcoat creates a high-performance, watertight finish with excellent UV resistance.
---
View our full range of Cure It products: