Cure It GRP Roofing System
Cure It GRP Roof Waterproofing System
Cure It is a revolutionary GRP waterproofing system by the UK's leading GRP flat roofing materials manufacturer.
A Cure It roof is made with specially formulated roofing resin and topcoat, and is supplied with a 20 year materials guarantee.
---
Features & Benefits
A hard wearing, structural waterproofing system that:
Can't be cut with a knife
Won't deteriorate under UV light or extreme heat
Tolerates foot traffic
The Cure It system comes complete with:
A 20 year guarantee on manufacturer materials
Installer guarantee flat roof will be leak free for 20 years+
Resins and topcoats designed for applications to promote:
Enhanced bonding characteristics
Vastly superior roofinh lexibility
4-Season variational temperature system:
Adapted for variation in temperature to allow year round installation, including at temperatures down to 0°C.
---
Shop In Categories
---
Product Overview
Designed for roofing applications, the Cure It roofing system is a complete range of GRP materials. Consisting of Reinforcement Mat saturated with Roofing Resin, the system is a wet-laid laminate applied over a securely fitted OSB3 18mm T&G deck.
The roof perimeter and any changes in pitch are resolved with a range of GRP Edge Trims, and the roof is finished with a hardwearing Roofing Topcoat.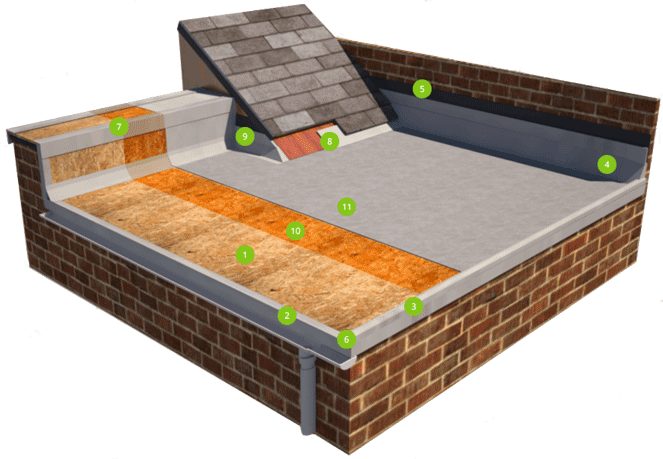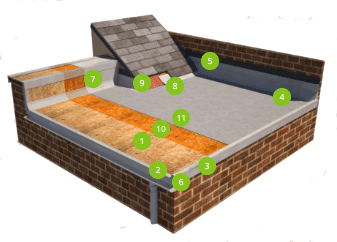 OSB3 18mm Tongue & Groove Decking Boards
A200 (Fascia Trim) - Gutter/Drip Edge/Fascia For Use With C1 Corner
B260 (Raised Edge Trim) - Used To Form Upstands For Use With C1 Corner
D260 (Fillet Trim) - Used Against Abutting Walls With C100
C100 (Flashing Trim) - Simulated Lead Flashing Alongside D260
C1 (Universal Corner) - For Use With A200 & B260 Profiles To Form Corner
AT195 INT (External Angle Trim) - For Inner Angles On Steps, Gutter Floors Etc
F300 (Flat Flashing) - Flat Section For Use As Continous Flashing Under Slates
C3 INT/EXT (Fillet Corner) - For Use With D260 Profile To Form Internal Or External Corner
GRP Lamintate - Consisting Of Cure It Roofing Resin & Hardener, Cure It Reinforced Mat
Cure It Top Coat
---
Introducing Cure It Evo and RoofCell
Cure It has also released two new GRP roofing systems: Cure It Evo and RoofCell.
RoofCell is a revolutionary direct-lay GRP roofing system that is suited for new projects as well as refurbishments, whilst Cure It Evo is specially formulated to be applied directly onto foil-backed insulation boards, removing the need for an OSB timber deck.
Click on the banners below to find out more about each of the two new lines.
---
How To Install Cure It
Training is recommended before using the Cure It system.
Training is recommended before using the Cure It system, and is available from dedicated Cure It training facilities in Wigan and Croydon, and through their distributor network throughout the UK. The course provides the basic training needed to start using the Cure It system, and features:
Theory and practical sessions, including hands-on training under the supervision of the UK's leading experts on GRP roofing
Small group sessions for individual feedback
Handling, storage and health & safety information
Guidance for specific projects
To book an appointment please call 03301 222666 or email [email protected].
---
Video Guide
---
Smartphone Apps - Version 2.0 has arrived!
The Cure It multi-tool app has all the resources you need to install a Cure It GRP roof. The app comes with: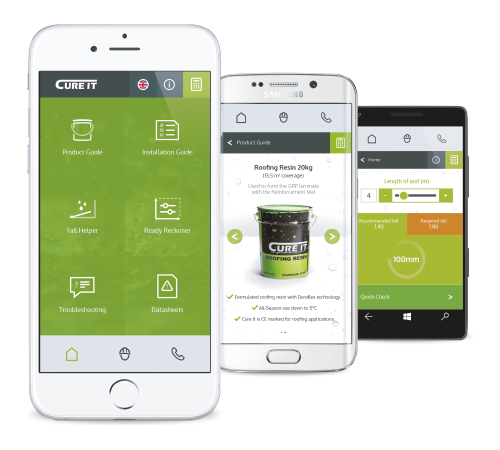 A full illustrative installation guide
A fall helper to work out the fall of your roof with built-in 'Quick Check' to highlight when the correct angle is achieved
A 'My Account' section and built-in calculator
A 'Ready Reckoner' to in an instant work out the materials you require by simply inputting the dimensions of your roof
New Features Include:
Video tutorials
Improvements to the Fall Helper Tool
New features to the Ready Reckoner tool
Improved navigation and swipe carousels
Download Now From:
---