Staifix Stainless Steel Wall Starter Tie
Staifix Stainless Steel Wall Starter Tie
Item Code: 517560721
---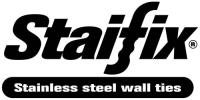 Click & CollectAvailable for collection
DeliveryFree delivery available (restrictions apply)
Overview
Staifix Stainless Steel Wall Starter Ties are suitable for use in blockwork and brickwork, up to three storeys or eight metres in height. Supplied complete with an 8mm nylon wall plug, the Starter Tie is fixed into the existing wall at an angle of 30 degrees to the horizontal and bent into the bed joints of the new brickwork.Ties should be fixed at 225mm vertical centres and be central to each leaf of the new wall.
Benefits
Quick and easy installation
Screws into existing brickwork to tie in new walls
Sold singularly - no job too small.
Specifications
Data Sheets
Conversion & Materials Calculator