NEW KINGSTON BUILDERS MERCHANT BOOSTS LOCAL CAUSES
NEW KINGSTON BUILDERS MERCHANT BOOSTS LOCAL CAUSES
December 2nd, 2019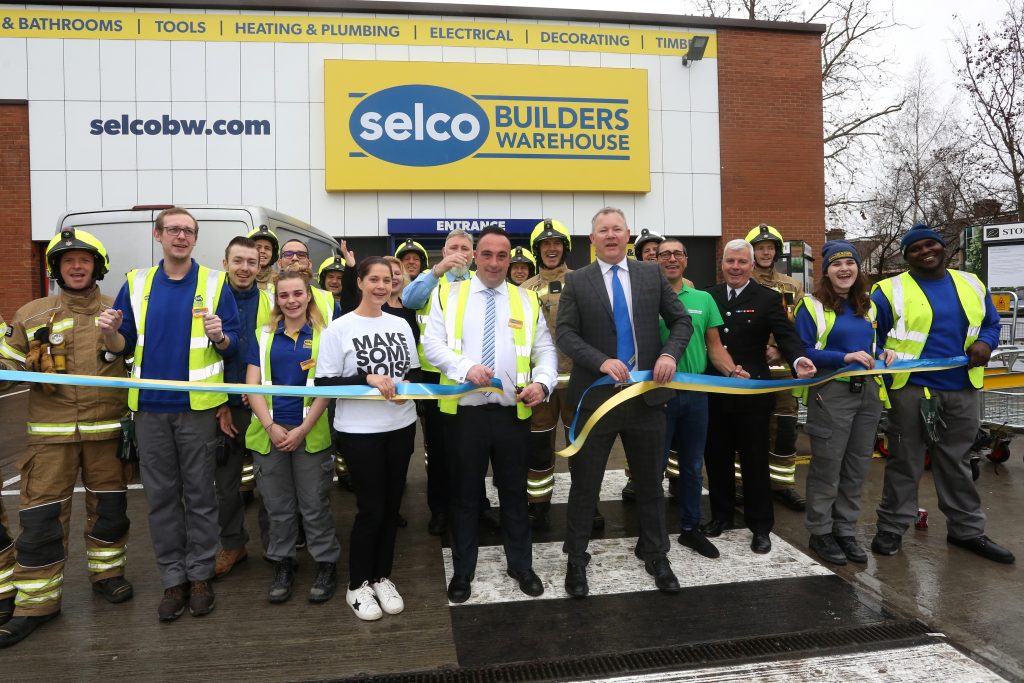 Three charities were given a pre-Christmas cash windfall and local residents had the chance to test their darting skills against a world class darts star as we opened our new branch in Kingston.
The ribbon has been cut at Selco's 67th branch, which is based on St Georges Industrial Estate on Richmond Road and has created 50 jobs in the local community.
To mark the opening and as part of our partnership with the Professional Darts Cooperation, world No 8 James Wade stepped up to the oche in the branch to take on customers and staff in fun darts challenges.
In addition, we also made three £1,000 donations to the Fire Fighters Charity, Macmillan Cancer Support and Global's Make Some Noise.
Roy Barnard, Branch Manager at Selco Kingston, said: "We are delighted to have opened Selco's latest branch and our newest one-stop shop for tradespeople.
"There was a fantastic buzz in branch on our official launch day and a real sense of pride that we were able to support three charities which do fantastic work in Kingston and beyond.
"Macmillan Cancer Support and Global's Make Some Noise are our nominated national charity partners and we were delighted to select the Fire Fighters Charity, which provides specialist lifelong support for member of the UK's fire services, as our third recipient.
"Our branch is very close to the fire station in Kingston so it was a natural fit."
The Fire Fighters Charity provides mental, physical and social support to past and present firefighters across the UK.
Natasha Mason, Regional Fundraising Manager for the Fire Fighters Charity, said: "We support around 5,000 fire personnel a year who have fallen on difficult times and our main aim is to help people move forward positively with their lives.
"Selco's donation is a wonderful gesture and will go a long way to supporting our beneficiaries."
We are committed to supporting Global's Make Some Noise, a national charity that funds and empowers projects and small charities across the UK helping children and young people living with illness, disability or lack of opportunity. Charities include Our Time, Regenerate and Skylarks, all of which operate near Kingston.
Jasmine Morgan, Make Some Noise's Partnerships Development Manager, said: "We're thrilled that Global's Make Some Noise has been recognised by Selco for this latest opening in Kingston."
"Selco's generous donation will help us to continue supporting small but vital charities close to Kingston and across the UK. These charities can be the difference between coping and not for vulnerable or disadvantaged children, young people and their families."
Selco's donation to Macmillan Cancer Support's work in Kingston is in addition to more than £700,000 it has raised for the charity nationally over the past seven years.
Fern West, from Macmillan Cancer Support, said: "Selco has provided amazing backing nationally over the last seven years and it is fantastic that people in and around Kingston will benefit with assistance for bills, such as heating, through Selco's contribution towards Macmillan grants."