Wembley fever to lead to £1,000 supporter bonanza
Wembley fever to lead to £1,000 supporter bonanza
August 15th, 2019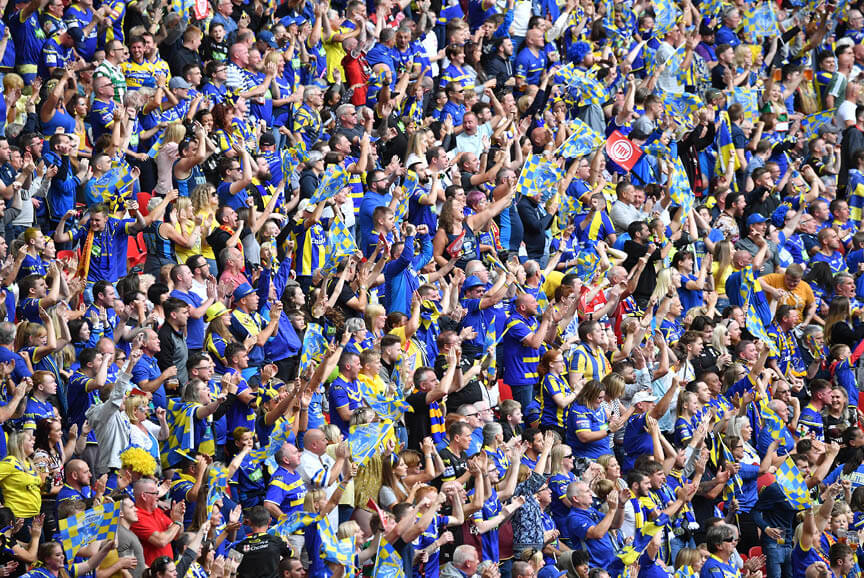 Warrington Wolves supporters have the chance to bag themselves a £1,000 windfall by getting in the Wembley mood and helping to 'paint' the town primrose and blue.
The Wire have joined forces with club partner and back-of-shorts sponsor Selco Builders Warehouse – a leading nationwide builders merchant with a branch on Milner Street - to offer the cash prize for the person or workforce producing the 'best dressed' home, shop or office ahead of the Coral Challenge Cup final at Wembley next Saturday.
Special packs featuring an A2 'We're going to Wembley' poster, primrose and blue bunting, balloons and special flags will be available from the Official Club Store on Monday, 19 August, to give supporters a helping hand to start their decoration plans.
Entries for the 'best decorated' competition will need to be submitted via Warrington Wolves' social media channels early next week by tagging in the club. The deadline for entries is 5pm on Thursday 22 August, with the winner of the £1,000 prize decided in the run-up to the big game.
Paul MacLeod, head of marketing and match-day sales at Warrington Wolves, said: "It was a long-standing tradition that when the club reached Wembley, homes, shops and offices would deck out in primrose and blue and create a special feeling around the town.
"We would love to re-create that in the lead-up to this final and are delighted to have Selco on board to support our plans.
"Whether it's Warrington Wolves' memorabilia, banners or anything else that people think will make an impact in club colours, it would be great to see as many people as possible getting in the spirit on what is a huge day for the club.
"The decorating packs available from the club store on Monday will give supporters a starting point but we are looking for people to go one step further and be as creative and imaginative as possible with their decorations.
"We can't wait to see the entries come in."
Carine Jessamine, marketing director of Selco, added: "There is a real feelgood factor around Warrington ahead of the game and we know what a big occasion the Challenge Cup final is for the club and the town in general.
"We are delighted to be supporting the club in their quest to get as much of the town as possible decorated in primrose and blue – colours which are very close to our hearts at Selco – and look forward to helping select what will undoubtedly be a worthy winner."