Community Groups Enjoy Double Delight
Community Groups Enjoy Double Delight
October 30th, 2018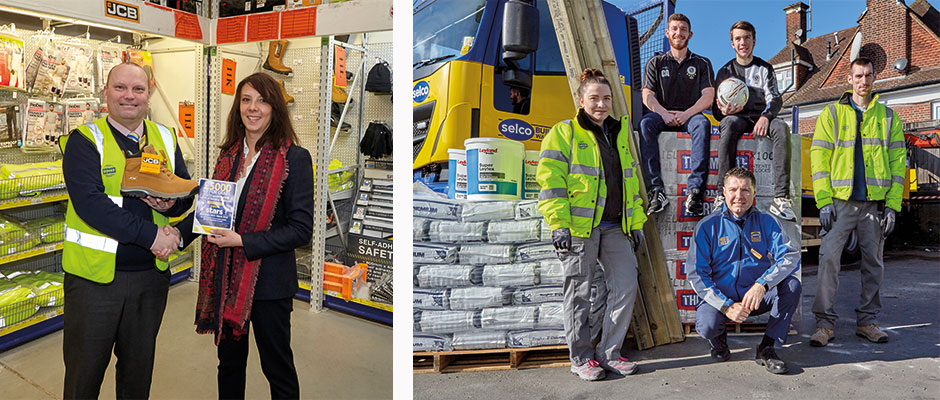 Two community groups will be building brighter futures after becoming the first winners of a new national competition.
Slough-based Learning to Work and Borehamwood 2000 Football Club will each receive materials from leading builders merchant Selco Builders Warehouse. The awards were the first two of 12 to be handed out over the next six months under the Selco Stars scheme.
Charities and community groups are invited to submit entries for the chance to win £500 of materials to use on a project. There will be two winners every month, with each of them going before a public vote in early 2019 for the chance to win £5,000 cash.
Borehamwood 2000 will use the materials to continue rebuilding its Pursley Playing Fields ground after vandals destroyed equipment and facilities over the summer, ripping tiles from the roof, breaking locks and ruining dug-outs.
Sandra Langham, fundraising secretary for the club, said: "We are thrilled to win this prize from Selco Builders Warehouse.
"The children who play on our pitch were immensely upset by the vandalism at the club. "We want to rebuild our facilities for them and this money will go a long way to helping us achieve that."
Learning to Work inspires the future workforce about career opportunities by organising a range of 'work ready' activities including work experience with local businesses for school and college students.
Rachael Burt, chief executive officer at Learning to Work, said: "Valuable time on work experience inspires students to pursue the right career path. For those that want to become the future plumbers, electricians, carpenters and builders that this country desperately needs, we need suitable clothing and boots to loan to the students. This money will help us to buy the things we need.
"It's fantastic that a leading business such as Selco is supporting groups in this way."
Selco Stars is open to any charity or group which provides a benefit to the local area and entries can be made by explaining in no more than 100 words how they would use the building materials or money to benefit them.
Carine Jessamine, Selco marketing director, said: "It's fantastic to have Selco Stars up and running and to be able to announce our first winners.
"We had some fantastic entries to Selco Stars this month, and we look forward to receiving more as the months pass."
Entries can be made by filling in a form on the Selco website www.selcobw.com/stars