Builders Merchant Backs Haywards Heath Football Team
Builders Merchant Backs Haywards Heath Football Team
September 27th, 2018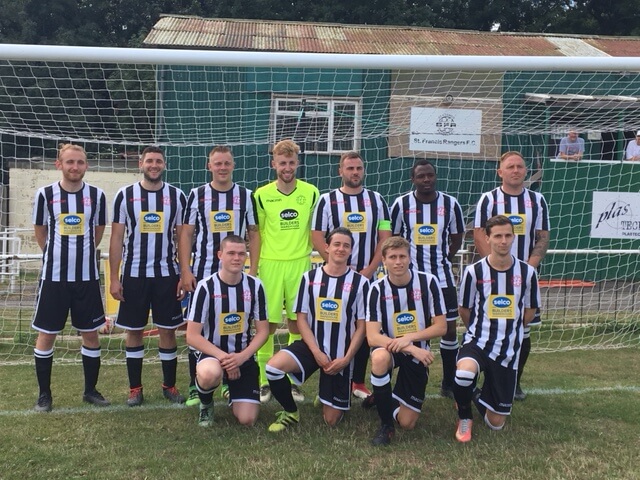 St Francis Rangers FC will proudly wear the name of Selco Builders Warehouse on their shirts after signing a deal with the company's local branch in Redhill.
The sponsorship also involves pitch-side advertising at the club's Colwell Ground home, as well as in the matchday programme.
Darren Hardie, branch manager at Selco's Redhill branch on Orchard Business Park in Bonehurst Road, said he was delighted the company was supporting a local team.
Darren said: "We are pleased to support St Francis Rangers FC with this sponsorship.
"I met with the chairman and manager recently and I was impressed with their plans for the future. They're a real community club – and they're improving on the pitch as well.
"Haywards Heath is an area in which we are looking to expand, so it's a natural fit."
St Francis Rangers FC were once dubbed the worst club in England having amassed six points from 38 games during the 2015/16 season. They were relegated from the Southern Combination Premier Division with a goal difference of minus 204, having scored just 10 goals all season.
The club has since re-grouped and brought in new players and last season finished mid-table in Southern Combination Division One.
Paul Garrett, of St Francis Rangers, said: "We lost a number of players and quite a few club members a few years ago and things really took a turn for the worse.
"Thanks to tireless efforts of volunteers, we're now back up and running.
"We are very grateful to Selco Builders Warehouse for their involvement. It's great to see a big business involved in grassroots football.
"A few of our players have a trade background as well, so they're very familiar with the great offering from Selco."
Along with the other 65 UK branches, Selco Redhill supply everything needed to build a house or carry out refurb jobs, including doors, windows, insulation, roofing, heating, plumbing supplies, lighting, electrical products, kitchens, bathrooms and timber.