NEW BRISTOL BRANCH BOOSTS TRIO OF CAUSES
NEW BRISTOL BRANCH BOOSTS TRIO OF CAUSES
May 24th, 2018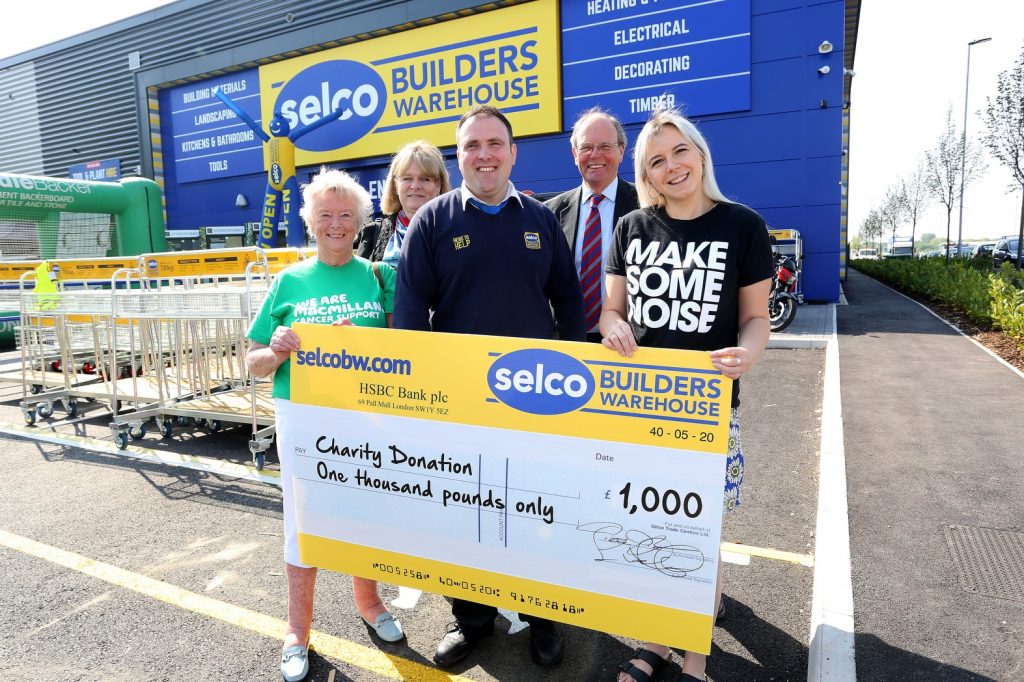 Selco Builders Warehouse has cut the ribbon on its 65th UK branch, Bristol Filton, off Gipsy Patch Lane in Bristol, following on from the success of its existing Bristol branch.
To mark the opening, Selco has made £1,000 donations to SSAFA Bristol & South Gloucestershire, Macmillan Cancer Support and Global's Make Some Noise.
Chris Williams, branch manager at Selco Bristol Filton, said: "It's great to be able to cut the ribbon on Selco's second branch in Bristol, our latest one-stop shop for tradespeople.
"It's really important for us to give back to the communities in which we are operating so to support three very worthy causes for this opening has been fantastic."
SSAFA Bristol & South Gloucestershire works with armed forces veterans and their families who may be struggling financially, emotionally and physically.
The charity's home, HMS Flying Fox on Winterstoke Road, is run solely by volunteers.
Dawn Civill-Williams, chairman of SSAFA Bristol & South Gloucestershire, said: "We're thrilled to be chosen by Selco as part of the celebrations for the opening of its new branch in Bristol Filton.
"We assist veterans and their families in their hour of need. This could be assistance with deposits to secure a home, home adaptations, mobility equipment and much more.
"Our work can be harrowing and all of our volunteers at HMS Flying Fox go above and beyond to assist our veterans and their families."
Selco's donation to Macmillan Cancer Support's work in Bristol is in addition to more than £500,000 it has raised for the charity nationally over the past five years.
Last year, Macmillan spent more than £89,000 on 531 grants for local people living with cancer in Bristol.
Gini Smith, from Macmillan Cancer Support, said: "Selco has provided amazing backing nationally over the last five years and it is fantastic that people in and around Bristol will benefit with assistance for bills, such as heating, through Selco's contribution towards Macmillan grants."
Selco will also be supporting Global's Make Some Noise, which works with amazing small charities across the UK including Young Bristol.
Young Bristol delivers outdoor activities and creative arts in the community, supporting more than 7,000 disadvantaged children and young people aged from eight to 19.
Aimee Hayhurst, Make Some Noise's partnerships manager, said: "We're thrilled that Global's Make Some Noise has been recognised by Selco for this latest opening in Bristol Filton.
"The generous donation will help us to continue our support for charities like Young Bristol which is a vital service that provides youngsters with outdoor activities and creative arts.
"They offer a city-wide programme of activities, youth clubs and training schemes for some of Bristol's most deprived communities."