LEICESTER CHARITIES GET BACKING FROM BUILDERS MERCHANT
LEICESTER CHARITIES GET BACKING FROM BUILDERS MERCHANT
May 10th, 2018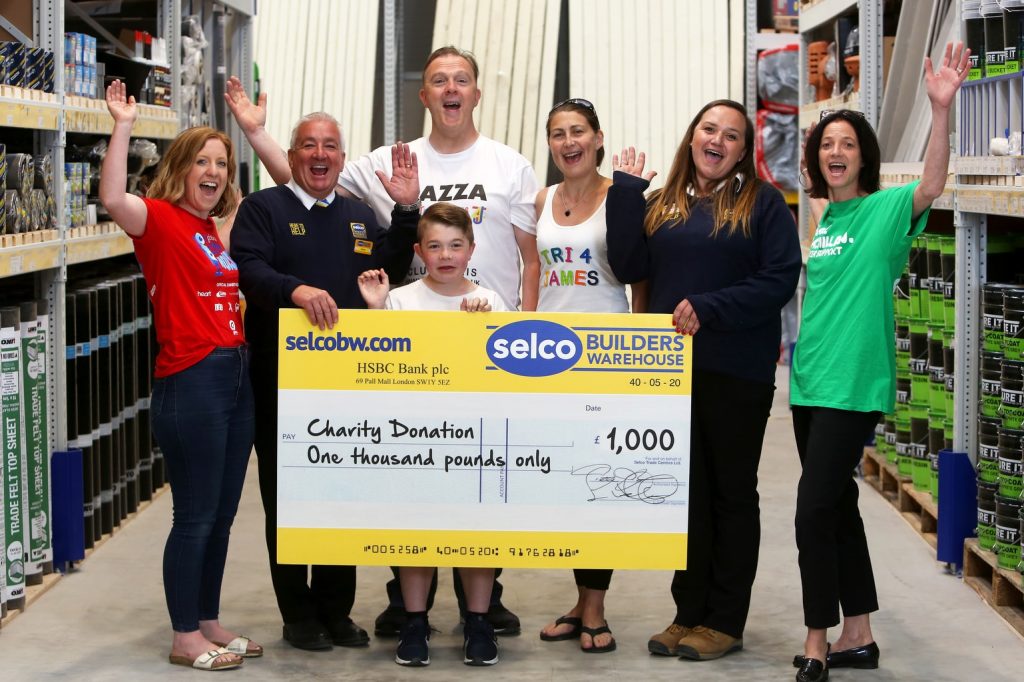 Selco Builders Warehouse has backed nine-year-old James Liquorish who has been diagnosed with a life-limiting form of muscular dystrophy, as well as Macmillan Cancer Support in Leicester and Global's Make Some Noise.
Each has been awarded with £1,000 to support their work in and around Leicester.
The donations come as part of the builders merchant's official opening of its new, 64th branch on Parker Drive in Leicester earlier this week.
Eddie Johnson, branch manager at Selco Leicester, said: "We're thrilled to take the wraps off our latest branch in Leicester, which is just the latest step in Selco's expansion plans.
"To support local good causes is a huge part of the Selco ethos and we know the funding will make a massive difference to our three very worthy causes."
To mark the opening, Selco invited Leicester causes to submit an application for its Selco Stars scheme for the chance to win £1,000. The winner, James Liquorish, was diagnosed with a rare form of muscular dystrophy in 2013 and will use the funding to help adapt his family home to his needs.
James' parents Darren and Mazz Liquorish applied on the youngster's behalf for the competition.
Darren Liquorish, James' father, said: "We are delighted to have been selected as the Selco Stars winner for Leicester.
"James has a life-limiting condition called Duchenne muscular dystrophy and to receive this funding is brilliant news for him and our family.
"We have been hard at work renovating our house, but a lack of funds means we're making slow progress. This donation will make sure we can finish the house adaptation for James.
"He's a local lad with a massive heart and we're so pleased that Selco has handed us this generous donation."
Selco's donation to Macmillan Cancer Support's work in Leicester is in addition to more than £500,000 it has raised for the charity nationally over the past five years.
Gini Smith, from Macmillan Cancer Support, said: "Selco has provided amazing backing nationally over the last five years and it is fantastic that people in and around Leicester will benefit with assistance for bills, such as heating, through Selco's contribution towards Macmillan grants."
Selco is also proud to support Global's Make Some Noise, which helps youngsters and their families living with illness, disability or lack of opportunity.
Aimee Hayhurst, Make Some Noise's partnerships manager, said: "It's great to see that Selco are opening their 64th branch in Leicester and we're delighted that Make Some Noise will be benefitting from it.
"The generous donation will help us to support brilliant small charities right across the UK, including Family Care which offers emotional support for children and young people in Leicestershire and across the East Midlands."