BAULCH JOINS ANNIVERSARY CHARITY CHALLENGE
BAULCH JOINS ANNIVERSARY CHARITY CHALLENGE
September 25th, 2017
BAULCH JOINS ANNIVERSARY CHARITY CHALLENGE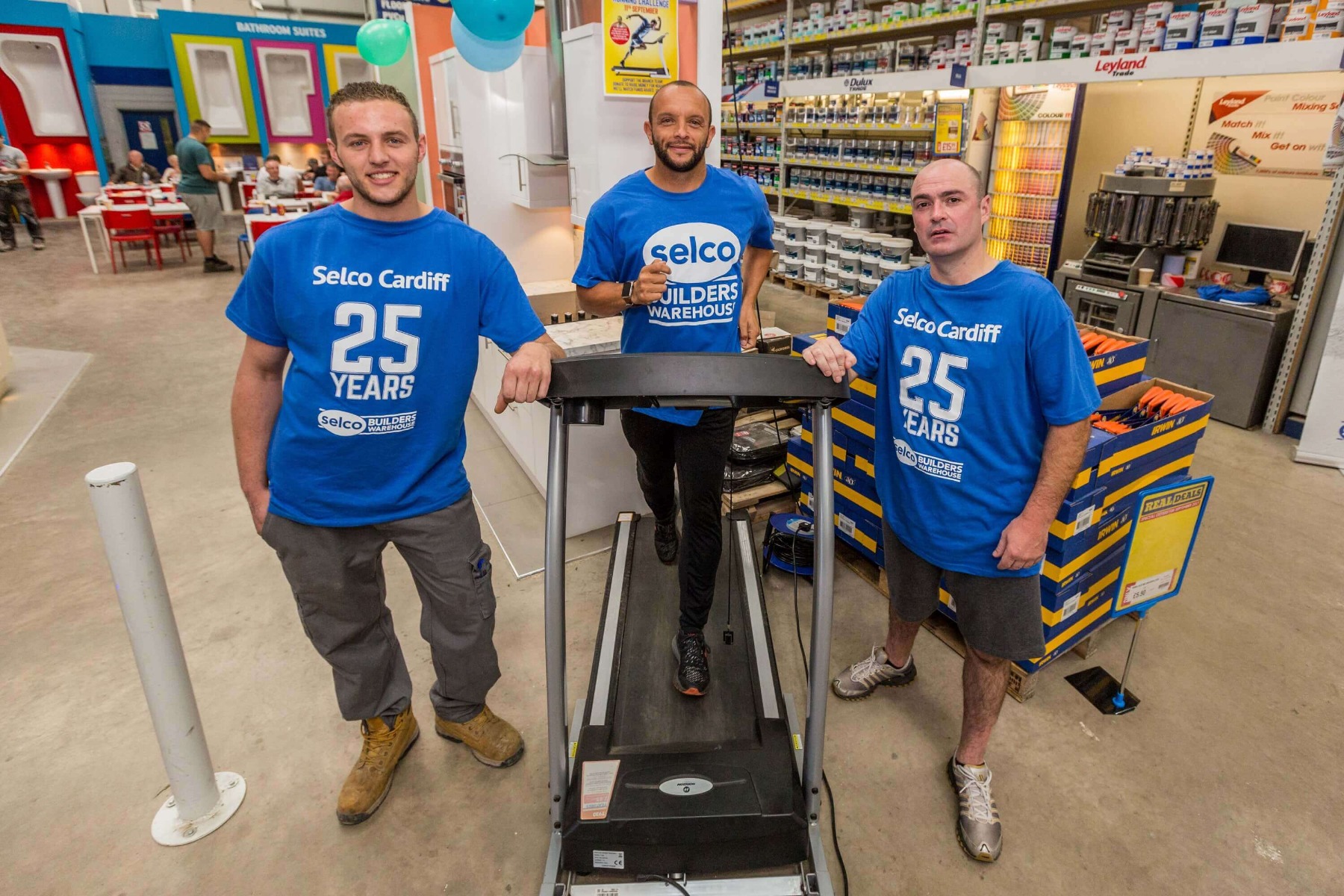 Former Welsh athletics star Jamie Baulch has rekindled his sporting career to help a Cardiff business celebrate a landmark anniversary.
Baulch, a World Championship relay gold medallist and Olympic silver medallist in the 1990s, joined staff from one of Selco Builders Warehouse's Cardiff branches in a special running charity challenge to mark 25 years of trading at Parc Ty Glas in Llanishen.
Staff at the branch joined forces to complete 25 miles on a running machine in the branch to raise £520 for Noah's Ark Children's Charity, with Baulch offering a helping hand doing one leg of the journey.
Peter Jones, Selco Cardiff's branch manager, said: "We wanted to do something to mark 25 years of serving the tradesmen community in Cardiff and support a local charity which is close to the hearts of our staff.
"Running 25 miles between the team in one day was a big challenge but we got there in the end with staff going on and off the treadmill throughout the day.
"We were delighted to have someone of Jamie's pedigree come and join us to help us on our way. It really gave the team a boost to keep going and complete the distance."
Selco has two branches in Cardiff, with the other located at Glynstell Close off Hadfield Road.
The Noah's Ark Charity supporters 73,000 children a year by funding life-saving equipment, direct services and facilities for families at the Noah's Ark Children's Hospital for Wales.
The charity's fundraising development manager, Samantha Allen, said: "We're very grateful to the staff at Selco for choosing us to benefit from their 25-year anniversary celebrations.
"Hundreds of families from Cardiff come through the doors of the hospital each week and it's lovely to have the support of the businesses within the community in which we're based."
Selco has 57 branches in the UK and each one supplies everything needed to build a house or carry out refurb jobs, including doors, windows, insulation, roofing, heating, plumbing supplies, lighting, electrical products, kitchens, bathrooms and timber.
Each branch also offers an in-branch café, trade services, direct-to-site delivery options and van size parking spaces, all designed to make it easier for tradespeople to get back onto the job as soon as possible.