EASTER EGG-TRAVGANZA FOR TIPTON NURSERY
EASTER EGG-TRAVGANZA FOR TIPTON NURSERY
April 13th, 2017
A Dudley builders merchant has ensured nursery children will receive a cracking time this Easter.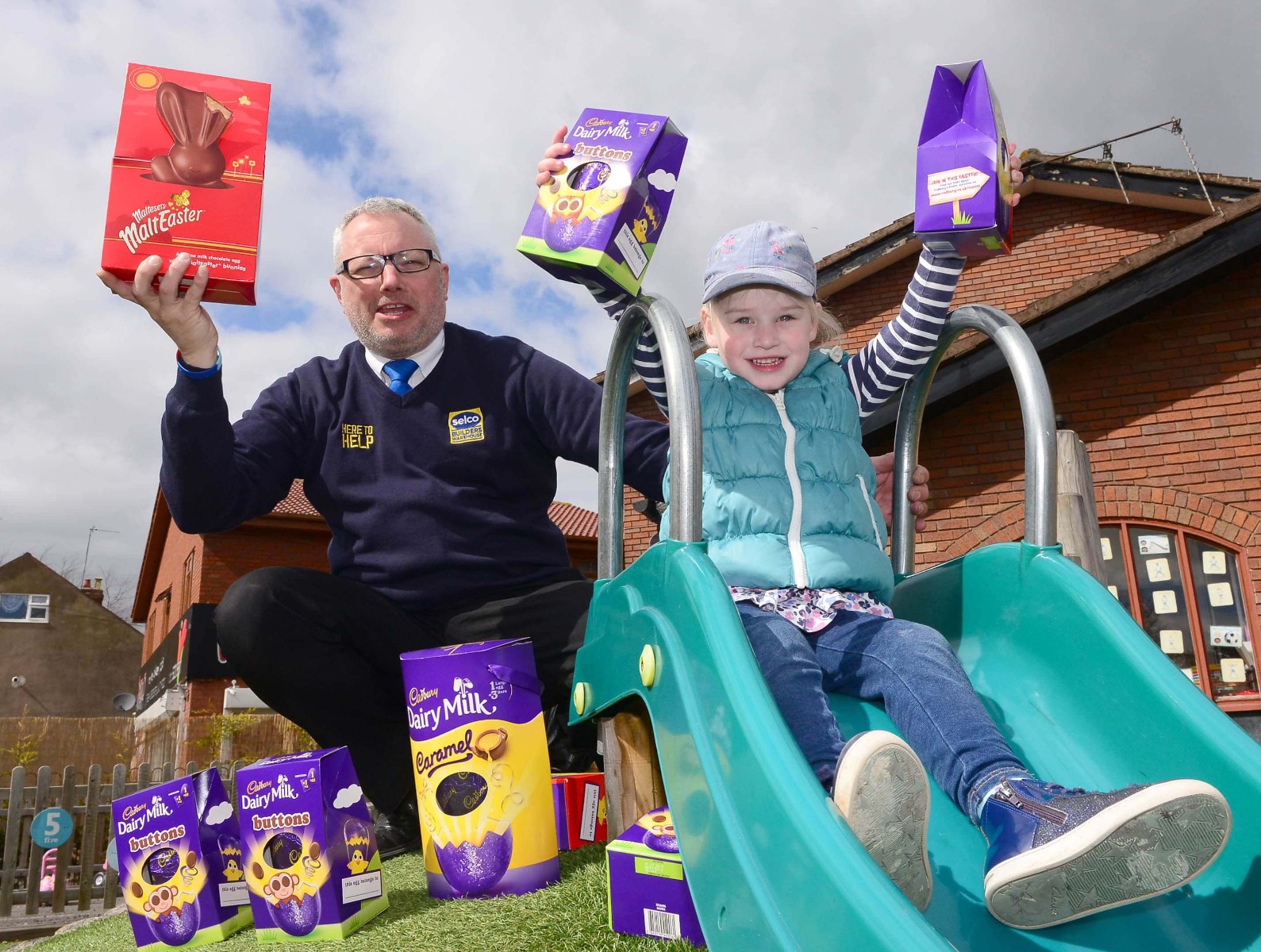 Selco Builders Warehouse in Dudley has donated more than 50 Easter eggs to youngsters at Tiddlywinks Kiddy's Nursery in Park Lane West, Tipton.
The donation forms part of a close link-up which, has seen Selco Dudley provide building materials for the nursery to build a 'mud kitchen' and other child-friendly garden renovations, as well as arrange an Easter themed colouring competition for the youngsters.
Malcolm Greenslade, manager of Selco Dudley which is located on the Coneygree Industrial Estate on Coneygree Road, said: "We are delighted to be supporting Tiddlywinks Kiddy's Nursery.
"The mud kitchen will hopefully provide hours of fun for the youngsters at the nursery and it's great to be able to generate some extra excitement around Easter with the competition and donation of chocolate eggs."
Beccy Newell, manager at Tiddlywinks, said: "It's been a real Easter treat for the children and they have loved getting involved in the colouring competition and, of course, receiving their Easter eggs.
"The staff at Selco Dudley have been very good in providing us with materials to offer extra attractions for the children in our garden and it truly is appreciated."
Selco Dudley supplies everything needed to build a house or carry out any refurb job including doors, windows, insulation, roofing, heating, plumbing supplies, lighting, electrical products, kitchens, bathrooms and timber.
Branches also offer an in-branch café, trade services, direct-to-site delivery options and van size parking spaces, all designed to make it easier for tradespeople to get back onto the job as soon as possible.