SELCO HIRE HITS BRITISH SUPERBIKES CIRCUIT
SELCO HIRE HITS BRITISH SUPERBIKES CIRCUIT
April 14th, 2016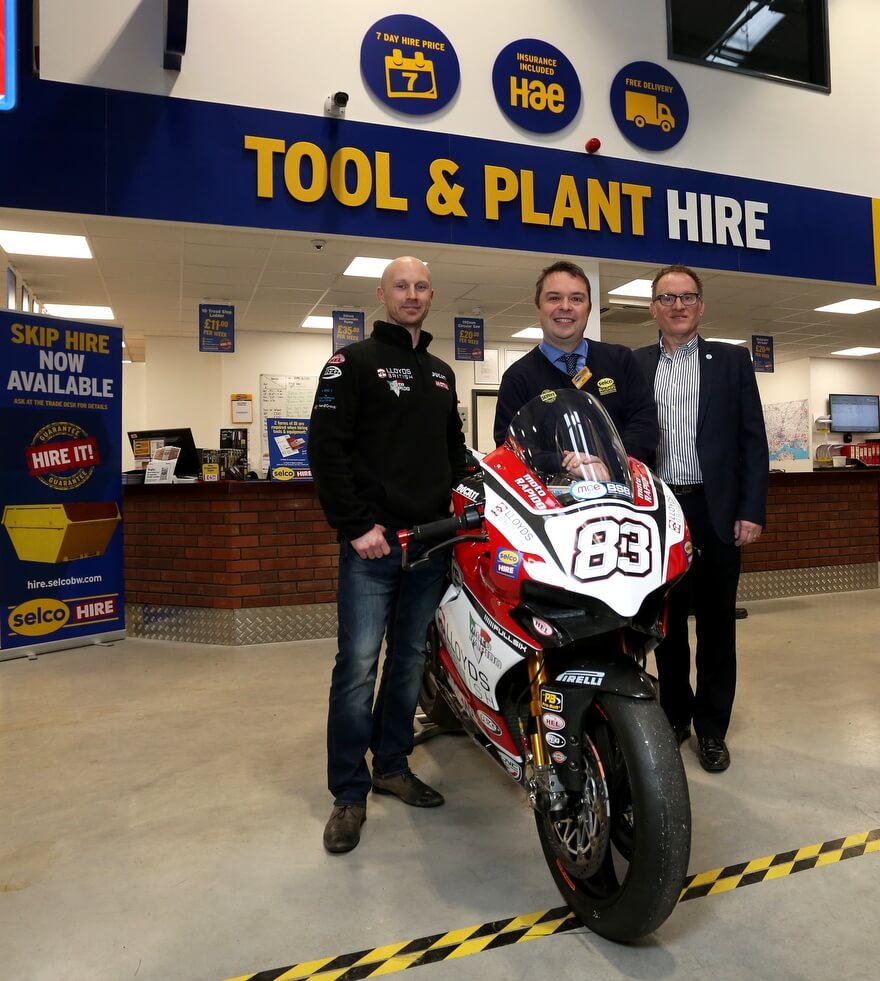 The hire department of a leading builders merchant has marked its expansion across its UK network by taking a place on the grid for the British Superbikes Championship in 2016.
Following a successful trial, Selco Hire is now available in all 41 branches of Selco Builders Warehouse, with tradesmen able to hire many thousands of products in a simple and cost effective manner.
Selco is committed to including its hire offering in all new branches opening around the UK as it undergoes a rapid expansion programme over the coming years.
As part of a partnership with Evolution Waste Management, who assist Selco with skip hire, Selco Hire has secured its logo on the bike of the Moto Rapido Ducati team for the MCE Insurance British Superbikes Championship season.
The team is preparing for its seventh season in British Superbikes and will be spearheaded by talented 22-year-old Danny Buchan, who won the 2014 National Superstock 1000 Championship title.
Iain Hopcroft, team manager of Moto Rapido Ducati, said: "We are thrilled to have linked up with Selco Hire for what is a huge season for us.
"There is a real air of excitement about all 12 rounds of the season.
"The team is excited and Danny is really looking forward to getting going. The pace in pre-season testing is good and we know that Danny is capable of competing at the front end of races following his achievements in the Superstock."
The link between Winchester-based Moto Rapido Ducati and Selco Hire was officially launched at the Southampton branch of Selco Builders Warehouse.
Chris Cunliffe, chief executive of Selco Builders Warehouse: "The Moto Rapido team is in for an exciting season and we are delighted to be part of the next chapter of their story through Selco Hire.
"Motorsport is enjoyed by many of our valued customers and we are thrilled to have a presence in a prestigious series such as the British Superbikes.
"In Danny, the Moto Rapido are giving an exciting, young talent a chance to excel and progress through the ranks and that fits in with the ethos of Selco.
"We look forward to following the progress of Danny and the team over the coming weeks and months."