Builders merchant expands London presence
Builders merchant expands London presence
October 12th, 2015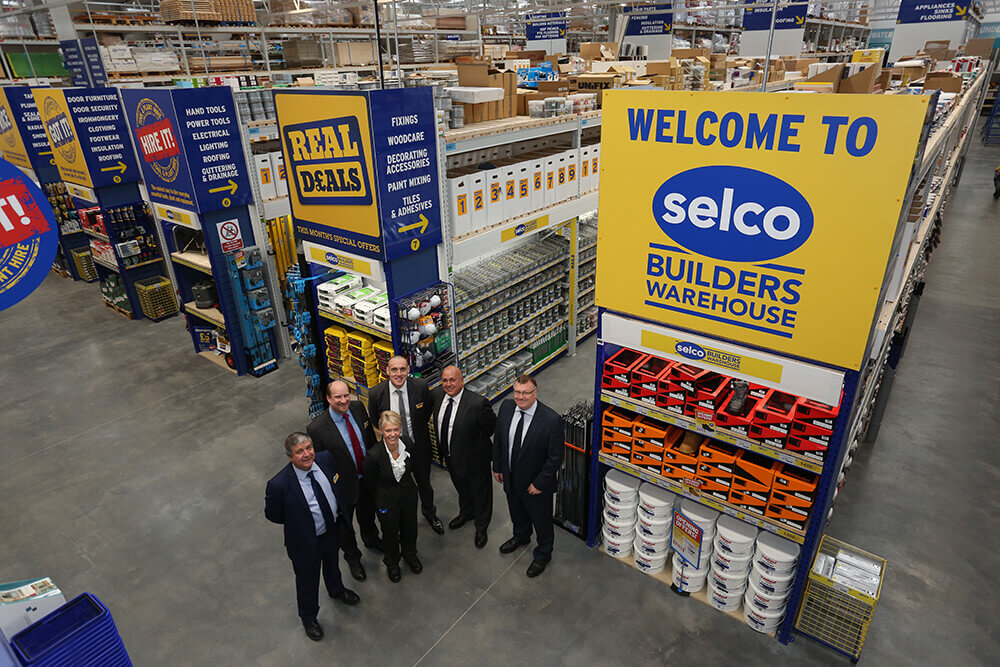 The ever-growing offering of Selco Builders Warehouse has been extended further with the opening of its 38th branch in the UK.
The leading builders merchant has taken the wraps off its New Southgate branch, further strengthening its links with London where Selco now has 23 branches in and around the capital.
Selco's new online offering, Click and Collect - which make life easier for customers who can order online and collect in branch – and Selco Hire are available at New Southgate.
Selco's chief executive, Chris Cunliffe said: "The New Southgate branch opening is another exciting development for the entire Selco team.
"Our target is to make life as easy as possible for our customers around the UK to purchase effectively and by opening new branches and introducing features such as Selco Hire, Click and Collect and Selco Direct – which allows customers to order online for courier next day delivery - we are confident we are achieving that."
The New Southgate opening is one of five new Selco branches to be introduced in 2015, following on from Redhill in Surrey and Coventry. Southampton and Weybridge will open in November.
Chris added: "The aim and strategy is to spread the Selco offering far and wide and open a branch in every major town and city in the UK. The New Southgate opening is another step towards achieving that but we certainly won't be resting on our laurels."
The New Southgate branch opening has provided a welcome boost to the local community. More than 50 jobs have been created with the opening, with many of those to be employed coming from the immediate local area.
In addition, local charity the Terapia Centre, which helps vulnerable young people and children in need of psychological help in Barnet, Finchley and New Southgate, has received a helping hand in its quest to secure a permanent new home. after winning a Selco competition to win £2,000 worth of building materials.
The Terapia Centre will use the materials to aid attempts to transform The Bothy, a grade two listed building located in the grounds of Stephens House & Gardens in Finchley, into a therapeutic centre of excellence. The competition, in which local charities were asked to explain in 100 words why they would be worthy winners of the prize, was arranged to coincide with the opening of the new Selco branch on Brunswick Park Gardens in New Southgate.
Bozena Merrick, chief executive of the Terapia Centre, said: "We are thrilled to have won the competition and Selco's donation is going to make such a huge difference to us.
"We are working extremely hard to try and turn The Bothy into a centre of excellence where we can provide counselling, psychotherapy and support for children and young people, as well as their parents and carers.
"We have had Heritage Lottery Funding to help restore The Bothy but every donation is absolutely crucial to us reaching our target and our huge thanks goes to Selco as we aim to transform young lives and create new futures."
Sean Madden, Selco New Southgate branch manager, said: "Preparations for the new branch have been ongoing for several months now so we are thrilled to be officially open for business.
"We have assembled a very strong and dedicated team and are confident we can offer a first-class service. We are also thrilled to be providing an immediate benefit to the local community, both through jobs and through our donation of building materials to such a worthwhile charity as the Terapia Centre."
The New Southgate branch offers an extensive range of building materials, drainage, roofing, heating, plumbing and electrical products, a range of timber including a bespoke cutting service, doors and windows, ironmongery and fixings, decorating supplies, landscaping and fencing items as well as kitchen and bathroom showrooms plus Selco's latest new initiative tool and plant hire.
As with all Selco branches, there is an in-branch café, trade services, direct-to-site delivery options and van size parking spaces, all designed to make it easier for tradespeople to get onto the job as soon as possible.