Next Day Delivery Service Now Available!
Next Day Delivery Service Now Available!
July 15th, 2015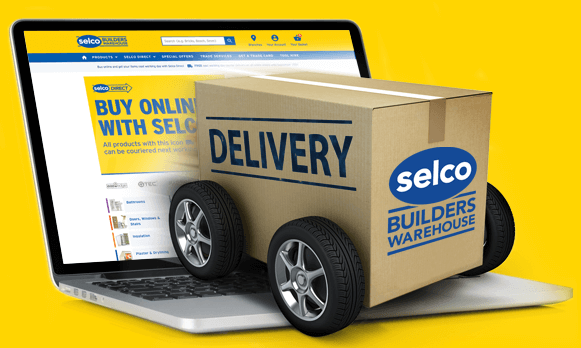 Selco Direct
Next Working
Day Courier

Selco, One of the UK's leading builders merchants has opened up new opportunities for tradesmen by expanding its online offering.
Recognising that tradesmen want to get on the job as soon as possible, Selco Builders Warehouse has launched its Selco Direct service, making more than 5,000 products available to tradesmen for next day delivery by courier.
Established trade brands such as Bosch, Makita, Dale Hardware, MK, Polyplumb and many more are all available from Selco Direct, meaning tradesmen can place an order online from any mobile device or PC as they are working and have the product arrive the next working day.
Chris Cunliffe, chief executive of Selco Builders Warehouse, said much thought had been given to creating the most customer-friendly service online offering. He said: "We want to make life as easy as possible for our customers so they can function effectively around their daily working lives. "Selco Direct and our other online offerings make us more accessible to our customers and allows them to trade with us how they want and when they want, depending on their needs and lifestyle.
"To have so many products available in Selco Direct is a real boost to tradesmen as they aim to get on with their jobs as quickly and effectively as possible." The introduction of Selco Direct comes hot on the heels of the launch of the Click and Collect service, which sees Selco customers given the chance to pre-order products online and collect them from a branch just three hours later.
Helen Gemmell, marketing director of Selco Builders Warehouse, said: "It's a very exciting period for Selco. We have new branches opening all the time and we are continuing to develop our online services rapidly. "Selco Direct gives us another chance to offer an alternative purchasing option for both new and existing customers right across the UK."
Selco Direct delivers to the vast majority of the country the day after an order is placed, with more remote areas serviced within two to three days.