Gittings goes for glory with Selco
Gittings goes for glory with Selco
February 20th, 2015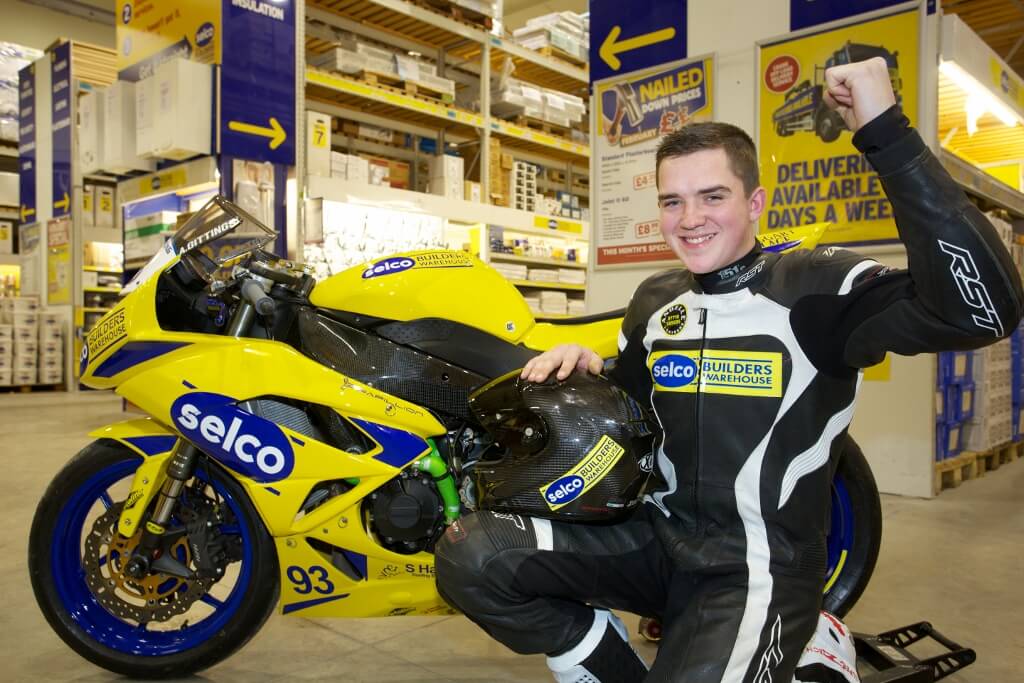 Hyde's Adam Gittings has been sponsored by leading builders merchants Selco Builders Warehouse for his first ever appearance in the Thundersport GB series. The 22-year-old will be backed every step of the way around some of the UK's most established motor sports venues by Selco, and Gittings will be racing a Kawasaki Ninja ZX-6R decked out in his new sponsor's blue and yellow colours.
Gittings, who is supported by his father Jeff, older brother Danny and two friends Simon Halliwell and Paul Errington in The Gitt Racing team, said:
"I'm hugely grateful for Selco's support and it really is a dream come true.

I was planning to do one or two Thundersport events in 2015 and fund them myself but this means that I will be able to attend every event over the year and give it a really good go.

I'm extremely grateful for Selco's support and am determined to perform as well as I possibly can to repay them."
A motorcycle technician at Road and Racing Motorcycles in Hyde, Gittings made his first major venture into competitive racing in 2014 after a sole appearance the previous year. Victory in the Preston & District Motorcycle Club's Pre Injection class Championship at the Three Sisters circuit in Wigan made it the perfect start and Gittings is excited at the challenge which lies ahead.
"It's a big step up from where I've been competing to the level I'm going to but the team and I are really excited about the season ahead."

"We will be competing in the Pre-National 600 this year which excludes riders who may be competing in British Superbikes as well."

"The Thundersport GB is very much seen as a platform to move up to British Superbike level and that is the dream for me over the next few years."
"We are delighted to be supporting Adam.

"It's mainly a family run team and Adam enjoyed huge success last year in what was his first season in competitive racing."

- Helen Gemmell, Selco Marketing Director
"Motorsport is synonymous with the customers of Selco and always features highly in their list of interests. With Selco also having three branches in the Manchester area and Adam rising from grass roots level and having his eyes set on a big sporting future, it creates a perfect sponsorship profile for us.

We look forward to following Adam's fortunes over the coming weeks and months and seeing the Selco colours on his bike flying around some of the most popular tracks in UK motorsport."

- Chris Cunliffe, Selco Chief Executive
Adam's first race weekend of the season will be at Brands Hatch on 6th – 8th March.